- Reviews -

for the
"The Cooked Seed"

NPR's Guide to 2013's Great Reads: "How she goes from terrified student who could barely speak English to best-selling author is a gripping tale — the kind of memoir you'll find yourself talking about at dinner parties in a fever of inspiration. It's the ultimate immigrant story — but its power lies in how much it lays bare the odd paradoxes of this country, even as Min struggles to find her place."
---
New York Times Sunday Book Review, June 28, 2013:
"[Min] writes with a mix of blunt candor and high drama that distinguishes both of her memoirs. ... As it has with so many émigré artists, America gave Min the chance to transport the seeds of her extraordinary story across the oceans, and urged them into bloom."
New York Times Sunday Book Review, Editor's Choice, July 5, 2013
---
Entertainment Weekly: 10 Best Nonfiction Books of 2013, December 6: "It's the book Battle Hymn of the Tiger Mother wanted to be. Min's story serves as both a love letter to her adopted country and a poignant wake-up call to Americans who take their freedoms for granted."
---
The London Times, July 13, 2013: "She's fearless on black politics; spoilt middle-class kids; and spending her last dollars on porn to assuage her loneliness. Her first book shocked Western readers for its depiction of the East, this one will unnerve them for her depiction of the West."
---
Publishers Weekly says, "In her excoriating examination of the legacy of Mao Zedong's Cultural Revolution, novelist Min (Pearl of China, etc.) offers a sharp, moving contrast between American and Chinese attitudes about human worth and dignity. Raised in Shanghai in a hardscrabble family of four children and educated parents who were denounced as "bourgeois," Min was plucked as a teenager from a labor camp in 1974 by Madame Mao's henchmen to appear in propaganda films. Min was thought to have "proletarian looks" (weather-beaten face, muscular body). However, with the swift change in the political wind, Min and her family were publicly shamed and thrown into years of poverty and ill health, sharing one room and a bathroom with 20 neighbors. Min, a hard worker, natural caretaker, and loyal to friends, managed to convince the Art Institute of Chicago that she was an artist and spoke English, though she nearly got deported once she arrived in Chicago at age 27 in 1984 because she spoke no English at all. Her memoir methodically reconstructs those painstaking first years in Chicago, living on a pittance, scrounging for work, amazed at what she considered luxurious dorm living, and guilt-ridden at her inability to rescue her family back home. Along the way, she offers candid observations on American naiveté, casual waste, and lack of Chinese stick-to-itness, yet writes poignantly of being treated with decency and warmth, inspiring her to work harder. Watching Mister Rogers' Neighborhood and reading Jane Eyre helped pave her yellow brick road to literary success, as she delineates captivatingly in this work. (May)" 2-25-13
---
"A truly rags-to-riches story from Shanghai to Chicago. … Min's rather dry grim descriptions of living on visa tenterhooks for years, enduring cruel loneliness, flagrant exploitation at job after job, and appalling living situations, even involving rape, prove moving reading. … An uplifting work of incredible grit and fortitude." Kirkus Review
3-1-13
---
15 promising nonfiction books for spring 2013 The Christian Science Monitor 4-3-13
---
The Library Journal says, "After spending her formative years in a labor collective in Mao's China, Min is unable to see failure as an option for either her or her daughter. Her declarative prose slowly reveals the enduring bravery of an immigrant who refused to dwell on hardship." 4-22-13
---
"Steel Azalea - A landmark memoir gets a moving sequel." Reviewed by Elyse Moody Elle Magazine
4-26-13
---
South China Morning Post 4-28-13
---
Book Page says, "Min's soulful tale of hope stirs our hearts and souls with its moving, harrowing and often heartrending stories of one young girl's coming of age in a land of threat and promise."
---
"The Cooked Seed" picks up where "Red Azalea" left off. Some 20 years and six novels later, Min's English is more sophisticated, though some awkward phrases remain, such as her expressed determination to live below her means as opposed to within them. She writes without a filter, sometimes startlingly frank about herself and those closest to her, but she is at her visceral best when describing the difficulties encountered on her arduous path to American citizenship. …
"The Cooked Seed's" richest addition to the ever-budding literature of the culturally transplanted are Min's excavations of her traumatic youth and fraught transition, and her explorations of the immigrant's "permanent sense of loss and dislocation" — all of which continue to define her as both an American and a writer." Los Angeles Times 5-9-13
---
"Her Honesty in telling how American life strikes a young immigrant and how she deals with setbacks makes this book well worth reading." St. Louis Post Dispatch 5-11-13

---
"It's a harrowing immigrant's story of deprivation and hardship, even rape, but also one of dreams that come true: a writing career, a daughter, a sense of belonging in her new country." San Diego Union Tribune 5-11-13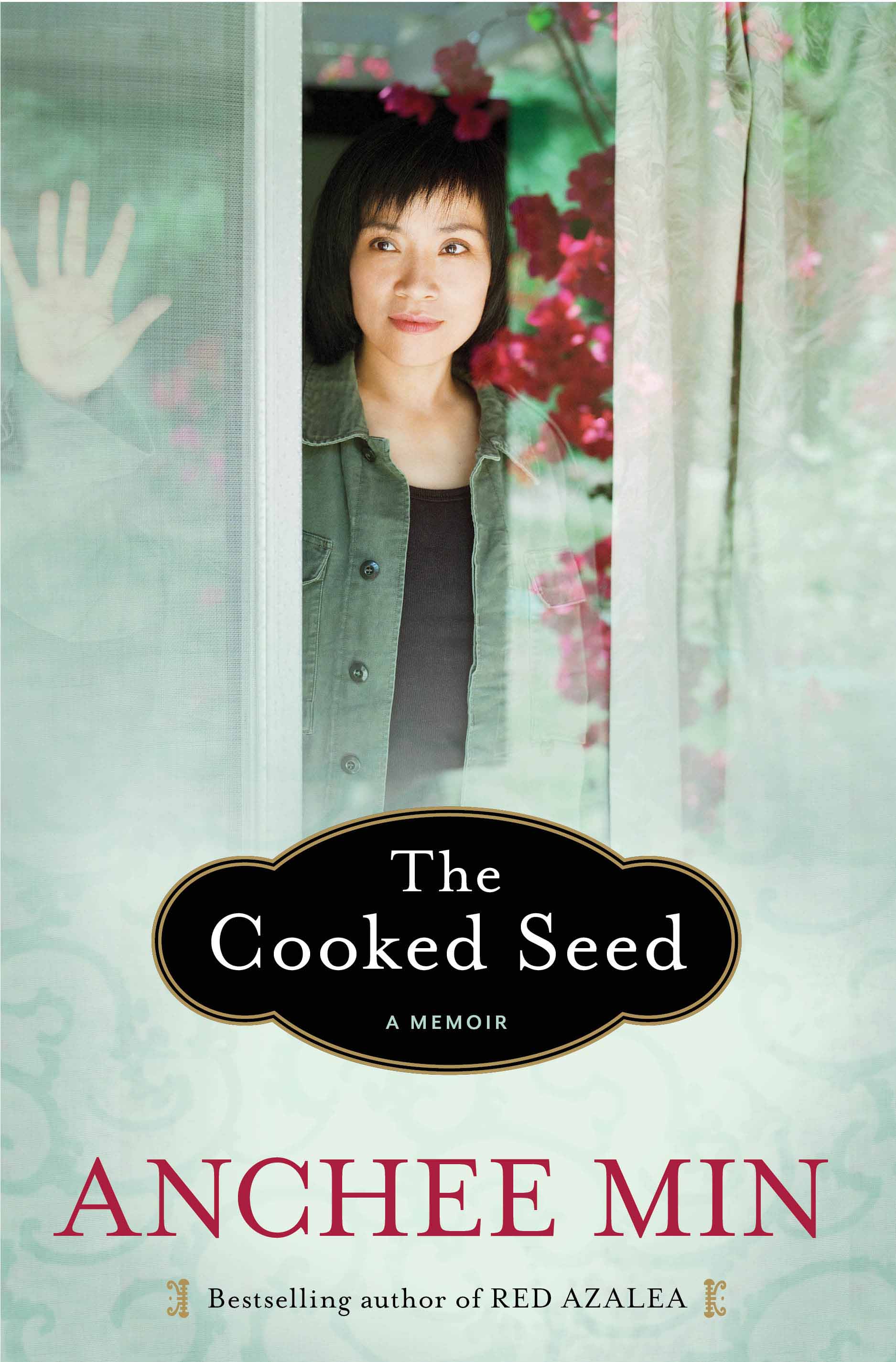 In 1994, Anchee Min made her literary debut with Red Azalea, her memoir of growing up in China during the violent trauma of the Cultural Revolution. The story left off as she fled her homeland, but a whole new life was just beginning. Nearly twenty years later, Anchee has written the next chapter.
From the shocking deprivations of Communism, Anchee is transported to America, with its bounty she still can't access—with no English, no money, and no clear path. Anchee teaches herself the language by watching Sesame Street, keeps herself afloat working five jobs at once, and sleeps in unheated rooms in desolate neighborhoods. Lonely, struggling financially, and fearful of her visa expiring, she marries badly and then divorces, taking on the challenge of raising her daughter, Lauryann, as a single mother. But it is her dream for Lauryann's future that will give her the courage and strength to endure. The story of Anchee's eventual success—as a mother, a wife, a writer, and a woman—is an immigrant story that illuminates so many things we take for granted. And it is a universal story, about moving forward until you find a path – or find youve been blazing one all along.
---
"Min's landmark 1994 memoir Red Azalea — about growing up during China's Cultural Revolution — reads almost like a terrifying dystopian novel. The Cooked Seed, her first memoir since, picks up after she immigrates to Chicago, where the stakes are no lower as she fights for a visa, learns English from Mister Rogers, claws her way out of a bad marriage, and tries to raise her daughter with an American spirit and Chinese determination. It's the book Battle Hymn of the Tiger Mother was trying to be. Min's story serves as both a love letter to her adopted country and a poignant wake-up call to Americans who take our freedoms for granted." Entertainment Weekly 5-9-13
---
"In the dedication of her latest book, ... best-selling Chinese author Anchee Min thanks her daughter for making (her) write this book. One cannot help but wonder why — with such a powerful story to tell — Min waited until now to share it. And then, as her rollicking tale takes off and we've forgiven her for the delay, we eagerly join her in a second round of heartfelt thanks to Lauryann.
"Min's writing is as beautiful and compelling as always here, and as we learn how she taught herself English — how else, but by watching TV — and later how she finds her literary voice, her talent is even more astounding.
"A Cooked Seed will hook you and stay with you for a long time." Boston.com 5-10-13